New Apple Update
Anyone with an Apple Ipod Touch who hasn't yet downloaded the new firmware release (1.1.3) is missing out big time! 
The new update to the software sees a handful of new features including an email client, weather updates, Notes and Google Maps with the fantastic location finding.
The latter is simply brilliant…  working without either GPS or GSM, relying purely on Wi-Fi Triangulation to pinpoint your current position on the map.  The iPhone is even better (so I'm told), using a combination of GSM (mobile phone masts) and Wi-Fi detection to give a more accurate result.
Wi-Fi Triangulation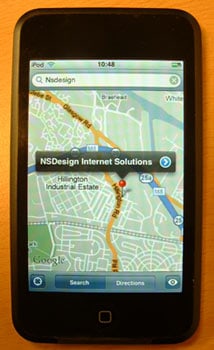 So how does it know where you are….  Google has partnered with Skyhook Wireless who provide a database of all known wireless access points, created by capturing the signals (apparently by driving round our streets in a souped-up geek van) from private and public wireless hotspots. 
When your iPod Touch requests it's location via Google Maps, Skyhook's WPS (Wi-Fi Positioning System) uses the device's built in Wi-Fi to scan for nearby access points.  When detected, it confirms the strength of connection, and compares all of this to it's database, using clever algorithms to calculate your position.  All very Mission Impossible, and some people have expressed concerns over privacy and security (both from a ipod/iphone user, and access point owner point of view) .
Right now I'm typing this from our office on Ainslie Road, Hillington.  I only know this for sure because my iPod confirms this!!  Selfishly, I'm delighted that Glasgow seems to have some great coverage in the SkyHook database, second only to London, and while I expect it'll be some time before the UK coverage even comes close to the Mobile Phone network, I'm convinced that over time this will become the "standard" locational mapping method.
A case for Google Advertising
There's no doubt that the location detection ability of the iPod and iPhone is impressive, and a really cool thing to show off to your mates.  But as the uptake of these devices increases, along with an increase in the accuracy of detection and a wider coverage, the business potential for companies with a shop, office, or any "physical premises" suddenly becomes clear. 
Type "NSDesign" into Google maps, and you'll be shown our office.  Now click on the "directions to here" option, and you'll get a detailed route direct to our door, starting at your exact current location.  Pretty powerfull stuff and all do-able now.  Certainly a reason for making sure your business is listed within Google Maps.
Related Links:
Add a custom Google Map to your website
Extract from the book "Web Development Solutions" – Chapter: Adding Google Maps to your Website