We make digital work.
NSDesign are best suited to provide you with the real expertise and experience required on all aspects of your Digital activity. We know what works, and what doesn't - having tried and tested most digital marketing strategies and tactics over the past 25 years! Here's just a few of our specialities:
We are more than a training provider.
We are your digital partner. We work with you to build your confidence and skills across all your digital channels. Recently, we've designed and developed digital training and consultancy programmes for big names such as the NHS, Skills Development Scotland, SkyScanner and more, not to mention the 1000's of start-ups and small businesses we work with through the likes of Business Gateway.
To date we have achieved exceptional results for our clients. Whether breaking down scepticism and winning people over to the concept of social media, or developing a sophisticated multi departmental digital strategy.
We've worked with many clients across Scotland and the UK, so no matter where you are located – we welcome your enquiry! NSDesign has a proud track record and you can be assured we will deliver our work on time, on budget and to your (and your client's) requirements.
View some of our projects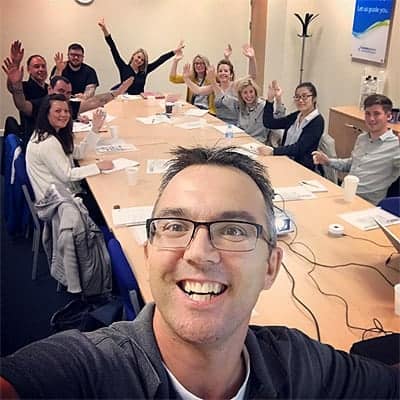 A look inside.
Over the years, NSDesign has been commissioned to design and deliver 1000's of training workshops and consultancy projects, from small one off events, to large multi-national company development programmes. If you're looking to increase your digital skills, or roll-out a new social media policy of staff guidelines, then we are the people for the job. We provide custom support tailored to your requirements and will work with you to design your training needs analysis, and the programme of work surrounding it. We don't use jargon (unless you want it) and pride ourselves on offering an outstanding value for money service. Get in touch via phone, email or through social media. Or better still, make an appointment and pop in for a chat, the kettle's on!
Get in touch to discuss your project.
Making digital work for you.
Our team live and breathe digital.