Prior to March 2020, the NSDesign team were out delivering digital training almost every day to groups of people in physical spaces.  Then Coronavirus hit, and Lockdown was imposed. Thankfully, our training didn't stop – but the method of delivery changed.
Over the last couple of months, I've been on more webinars than ever before!  Running many myself, but also attending lots too, and seeing how others run them.
Last week, I created a "webinar best practice" guide, that I shared with our team of trainers – not that they specifically needed any help or advice, more because I thought it was important we have a documented set of guidelines to work to, ensuring a consistent high quality product from the team, regardless who was actually delivering the webinar.
Perhaps you might get some benefit from this too.  If you run training webinars, feel free to use/modify these guidelines for your own purposes.  I also welcome any suggested changes, improvements, or any other best practices you think should be considered.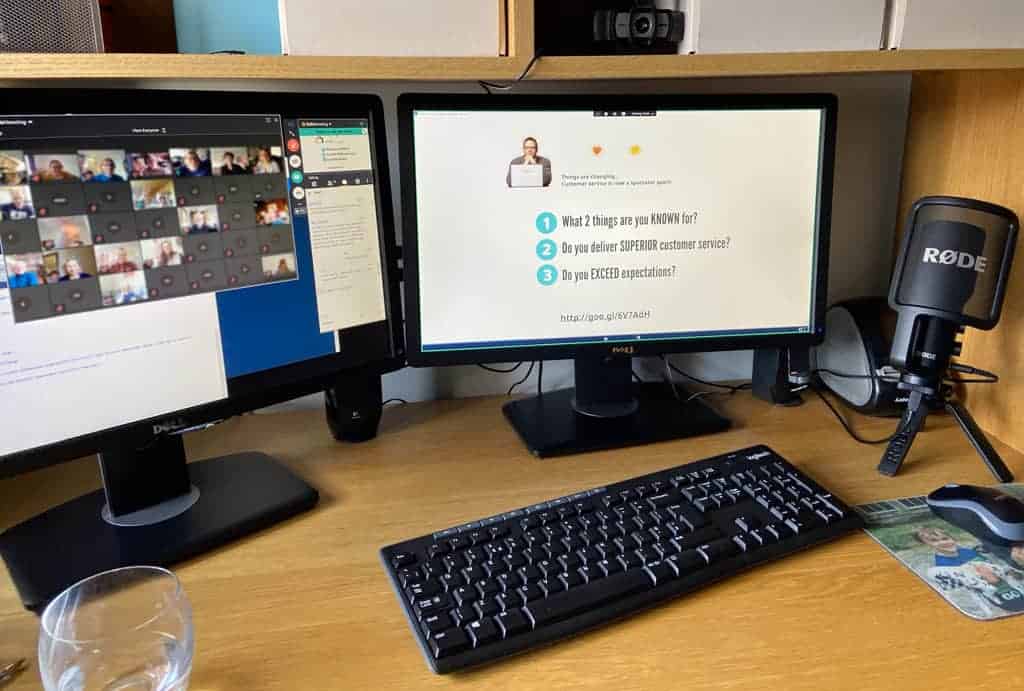 Webinar Best Practice

A set of guidelines and best practice for running a webinar.  These might not be relevant to every webinar/situation, but feel free to consider this a checklist and modify to suit.
Booking Process
Attendee "Joining Instructions" should be sent to them immediately on booking, and also as a reminder 24 hours before the event.
Joining instructions should be clear and easy to follow, and should encourage them to join early, advise on the software being used (providing a link to "help for first time users"), and request they do not share the joining links etc (see Suggested Templates below).
Setting up the Webinar
The webinar should be started approx 20-30 mins before the scheduled start time. Give them plenty of time to join if they wish.
Trainer should immediately share their presentation (showing the title slide), so that attendees "see this" on arrival.
Title slide should include a "While waiting to start, please familiarise yourself with the Webinar interface." – This will encourage them to learn the basics of controlling their mic/webcam/interface layout etc.
If possible, a nice feature is to also display a "countdown" – showing how many minutes to go until the start time. Windows has a 'timer' mode on their "Alarms & Clock" app, which can be set to the correct value, and shared via the screen.  This gives attendees a clear understanding of how long they've got to go make coffee etc!
Early on (before anyone arrives) you should do a basic "tech check" to ensure the system is displaying your webcam image correctly, and hearing your audio.
Ensure nothing 'sensitive' is visible in the background of your webcam picture, and ideally ensure you are well lit (natural light facing you if possible).
Trainer should periodically "say hello" (via mic and webcam) in the 15-20 mins prior to starting, reassuring everyone that he/she is there, and allows a further "tech check" at the same time (ask them if they can see/hear you).
With approx 10 mins to go, Trainer should encourage everyone to introduce themselves – "Who are you, what's your business, and where are you from". They can do this via their mics, or via the chatbox (encourage both).  Getting them to engage with you early, will increase engagement later on & allows you to "welcome" them, and build up some rapport.
If you (unfortunately) have a mild cough, or the start of a cold etc, you should acknowledge this. A friendly "Also just to say that today I've got a bit of a cold starting, so apologies in advance for my annoying sniffles!" will ensure the audience don't get annoyed as much as they would if you just "sniff away" with no apologies/explanation.  That said – if you are "unwell", then alternative arrangements should be made (postponing the event, or arranging a backup trainer).
During the Webinar
Try and start sharp, at the scheduled time. Do not wait any longer than 2-3 minutes for late arrivals.
Immediately provide clear housekeeping rules (see Suggested Templates below). Suggest you advise them to now turn OFF mics and webcams (to help minimise background distractions, as well as free up bandwidth for a smoother webinar experience).  If the webinar is a much smaller event, and you WANT a high level of engagement and audience participation, then try keeping mics/webcams on (but be prepared to quickly "mute" people if they are making too much noise – they won't realise it!).
Make a decision on whether YOU want to show your webcam throughout the webinar. Some attendees might prefer this (people with hearing difficulties will benefit from lip-reading you), but be aware that you're always visible,  and that it might impact your own web connection.  When using your webcam, try and "look down the lens" where possible.
Consider "locking" the webinar after approx 10-15 mins. Helps increase security (minimises the chance of any "zoom-bombing!").
Ensure you regularly pause from "presenting", and ask them to engage with you (ideally via the chat box). Asking "Does that all make sense..   give me a Yes or No in the chatbox please" will again encourage them to get involved, and allows you to reinforce that it helps you when they give feedback like that…
If fielding questions during the webinar, make sure that you don't get too distracted and lose your flow. Go back and answer questions later on at the end of key topics, which will often allow you to recap some of the messages.
Have a break (a very short one) approx half way through. Allows you (and them) to grab a drink, take a breather, and stretch your legs.
Ending the Webinar
Aim to finish on time (although often hard to achieve this if lots of audience Q&A etc).
Show (on screen) links to online feedback, and links allowing them to download the presentation. Best practice is to share these same links in the chatbox, allowing them to "click" them immediately.
Strongly encourage them to provide feedback. Explain that it's really valuable, and that "we read every comment", and it helps future development/content etc.  Ask them to "do it now please if you can".  The longer they wait, the more unlikely they'll do it.
If you can, hang back for 5-10 minutes at the end, explaining that you're still there, and will use the time to "mop up" any missed questions (take a look through the chat box) as well as answer any further questions. If there are any "hard questions" which require a lengthy response, you might invite them to provide an email which you can follow up later with.
Give an authentic "thank you" to all attendees for taking the time to join you, wish them and their businesses well, and encourage them to stay safe and healthy through the Covid lockdown etc (show a caring human side – as you've probably been doing throughout).
Technical Tips while live…
Running webinars with a "Dual Screen" setup will make your life much easier. Sharing one screen with the audience, while having your 2nd screen used for preparing content/web pages, showing your notes, and having the Webinar software panels on…  Just be aware that whatever is on the 2nd screen is LIVE to your attendees.
Using a good quality 'headset' (or separate headphones and dedicated microphone) is nearly always a better experience for everyone. Using just your own computer speakers will usually give annoying feedback (or an echo), and using the mic on your mobile phone headphones or on your webcam often results in poor quality audio for your attendees.
If you plan to show them videos, be aware that "streaming videos" from your computer is generally always a poor experience. Instead, just share the video (YouTube?) URL with them via the chatbox, ask them to watch it themselves, and give you a "done" when done! You should also know the "length" of the video (or the bit you want them to watch) so you can loosely time it yourself, and interrupt them again once you know they've likely completed watching…
Sharing actual mobile phone footage can be a challenge, and different webinar software has different ways they suggest you do it. One was is to "join" the webinar yourself (as a user) using your mobile, and then you could give that user screen sharing permissions.  Be aware though, that if doing this on a slow connection, you're effectively using twice the bandwidth!  Another solution is to use 3rd party software that simply screen shares your mobile to your desktop (I use "Reflector3") and you then just keep sharing your monitor content, which now has your mobile shown on it.
Learn how to quickly "eject" someone from the room. It's unlikely you'll need to, but by knowing exactly what to do if someone is causing trouble (or you have an unwanted attendee) will minimise the damage.  At the very least know how to mute people, and force everyone's webcam to OFF.  Get to grips with the software you're using and know where all the advanced/extra features are.
Security Best practice
Be aware of best practice security settings/configuration on your choice of webinar software. Links to resources/info below:
Suggested Templates (modify to suit)
Template for webinar joining instructions (based on GoToMeeting)
—————————–

Webinar – DigitalBoost Facebook for Business
Wed, May 6, 2020 1:30 PM – 3:30 PM (BST)
Please join this webinar from your computer, tablet or smartphone using the link below:
https://www.gotomeet.me/link/customlink
You can also dial in (to the audio) using your phone.
United Kingdom: +44 330 221 0097
Access Code: 555-111-333
New to GoToMeeting? Get the app now and be ready when your first meeting starts:
https://global.gotomeeting.com/install/555111333
We recommend you join the webinar at least 5 minutes before the scheduled start time, especially if you haven't used GoToMeeting before as you may need to download and install additional software.  Note that we recommend Google Chrome (which allows you to join directly from the browser).  While the GoToMeeting software is very simple to use, you may want to read the User Guide in advance: https://support.goto.com/meeting/new-attendee-guide
For security, please can we ask that you do NOT make the webinar URL public on social media etc, and be aware that we typically "lock" webinars approx 15 minutes after they start.
If you have any questions or concerns in advance of the event, please just let us know.
———————
Template for Webinar Housekeeping slide
—————————–
1 – Please remain "muted" with your web-cam off
Explain that this helps reduce background distractions, and saves on their bandwidth (to improve online experience).
2 – Ask any Questions using the Chat box
Remind them of the chat box (and explain that you'll try and check it regularly to answer any questions).
3 –  Please respect all attendees
A courteous reminder that everyone's comments/views/questions are valid, and to respect all other attendees
4 – This session may be recorded
Advise the above, but  reassure them that if used for anything other than "internal admin" etc, that all identifiable  footage/audio will be deleted and Recordings will NOT be made available afterwards.
5 – Handouts
Obviously no physical handouts, but remind everyone they can download the slides via the URL provided at the end.
6 –  Feedback at the end
Advise that the Feeback URL will be provided later, and stress the importance of taking the time to complete.