SQA Diploma in Digital Marketing
Online learning | Individual Coaching | Group Workshops
Give your digital marketing career a boost, and receive the recognition you deserve for your web and social media skills. The SQA Diploma in Digital Marketing allows you to study at your own time and pace, supported by our digital coaches and online learning system.
Develop your Digital Skills
The SQA Diploma in Digital Marketing is delivered in partnership between NSDesign and Training Matters, and has been specifically designed to maximise the potential and professionalise the role of those involved with digital marketing within organisations.
Unlike 'traditional' classroom learning, completing the diploma involves YOU pro-actively doing a lot of the work and learning, with us giving monthly group workshops (usually via webinar), as well as regular 1-2-1 coaching, guidance, and peer support (via our private Facebook group).
Achieve a nationally recognised professional qualification
The blended learning programme offers a methodical approach to the development of digital marketing skills by utilising an online portfolio support system allowing candidates to work at their own pace, at the most convenient time and location for themselves. This system also encourages online communication between candidates encouraging the exchange of good practice between professionals. All online programmes are supported by tutorials and coaching.
The aims of the Digital Marketing Diploma are to:
build a competent digital marketing workforce in Scotland, providing organisations of all sizes across all sectors with the staff needed to increase productivity and efficiency
develop the skills to utilise digital marketing techniques to grow businesses
tap into the skills and talents of a diverse population by providing flexible entry routes into a career in digital marketing
equip individuals with the skills, knowledge and experience needed to undertake digital marketing roles in a range of business settings
Upgrade the skill levels of existing staff
Achieve a nationally recognised professional qualification – The SQA Diploma in Digital Marketing at SCQF Level 6
The proven benefits of the programme have been:
Development of efficient and effective digital marketing practices
Increased turnover
Increased awareness of latest digital marketing techniques
Increased use of available technology to improve current working practices
The Diploma in Digital Marketing provides learners with a qualification that demonstrates underpinning knowledge and evidence of competence in digital marketing.
Programme Format:

A full training needs analysis will be carried out with both the employer and the candidate prior to acceptance on the programme. The full programme will consist of a mixture of the following depending on needs and units selected:

---

Online portfolios
Individual coaching
Delivered workshops
Online learning
Practical based evidence
Projects and case studies
Observations and questioning

---

The programme normally takes between 12-18 months to complete
Participant Requirements
The recruitment and selection of this programme is primarily the responsibility of the employer. However, the following guidance is given:

* There is no age limit to undertaking this qualification * All participants must be in employment * No previous academic qualifications are required although a level of literacy and IT literacy is essential * Participants must be in a position to actually work on digital marketing activities within their workplace * Most important attribute is the commitment to develop and achieve


Online Learning supported by Digital Experts
The Digital Diploma is not "exam based", and instead requires you to produce evidence (typically as part of your day to day marketing role) proving you can meet the various unit learning outcomes (a mixture of knowledge and practical skills).

The qualification modules include: understanding the business environment; understanding legal, regulatory and ethical requirements in sales or marketing; search engine marketing; using collaborative technologies; digital marketing metrics and analytics; content marketing; image and video creation, principles of social media within a business and much more…. You can view a full list of modules (both mandatory, and optional) via the SQA website here.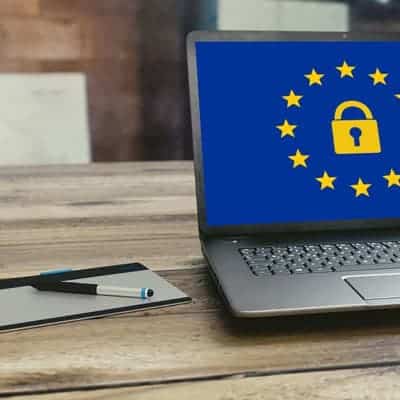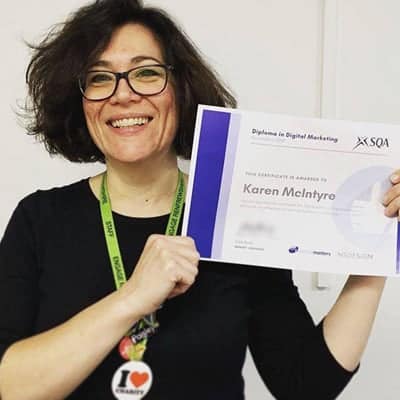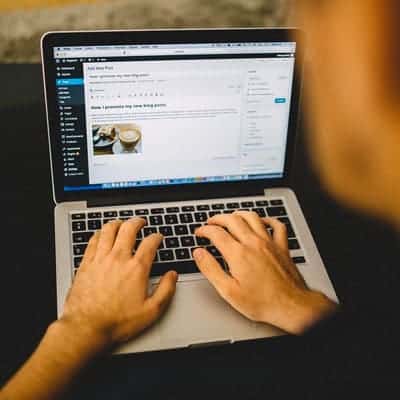 Fully Funded Diploma Fees
Given the priority that the Scottish Government are putting on the need to develop digital marketing skills, this programme is fully funded for all eligible participants (supported through the Skills Development Scotland Modern Apprenticeship programme), and as such (with the exception of a small admin/registration fee) the Diploma in Digital Marketing will cost the candidate, and their employer – nothing!
Next Steps…
Get in touch with Gary Ennis, Qualified trainer and lead coach on the diploma, and he'll walk you through any questions, discuss suitability for the candidate, advise next planned 'intake' date, and explain the next steps to move forward with the programme.
A huge thank you for your motivation, guidance and support over the last 12 months. I really enjoyed the Digital Diploma and have learned so much. You are a superb coach - your warmth and positivity is contagious and I always felt very supported.

Karen McIntyre, Community Manager, Engage Renfrewshire