For many years now, we've been promoting the benefits of using Hootsuite – a social media dashboard that allows you to manage most of your social media platforms from one place. Using just one web based system, you can manage your business Facebook page, your LinkedIn accounts, Twitter profiles, Google+ page, and (added just this week) Instagram account. Plus you can install plugins to manage other platforms too like Pinterest, YouTube and Tumblr.
It's not the only such tool on the market – there's many more, but having tried most of them, it's Hootsuite that we keep coming back to ourselves, and therefore keep recommending in our various social media training workshops.
Earlier this year, Gary was recognised by Hootsuite as being a great ambassador for the software, so they made it official by giving him that title! Fast forward just a few months, and we're also now pleased to confirm we've been given official "Hootsuite Partner" status.
How do we benefit?
What's the big deal about becoming a Hootsuite Partner? Well we get a few benefits. We get early access to Hootsuite news and gossip. This helps us try some of the new features first, meaning we're ready to showcase and train clients on them quickly. Plus, as a 'power user' they listen to us – so we're able to actually shape future development too. We also get a whole load of great Hootsuite resources, tutorials, guides, and videos – more content for us to help our clients with, and use at some of our training workshops. And finally we get support – dedicated priority partner support which we can take advantage of for ourselves, but more so for our clients, allowing us to seek help direct from the Hootsuite support and technical teams.
How can YOU benefit?
Our new Hootsuite Partner status will benefit our clients too. Hootsuite is completely free – but only if you use 3 or less social media profiles. If you want to manage more than 3 profiles (for example, a Twitter account, Facebook Page, LinkedIn and Google+ Page) you'll need to move to the PRO account which is priced at £6.99/month (for us it's the best value £6.99 we spend every month!). By signing up to the Pro version (on a 30 day trial) through our partner link (links at bottom), we can extend your trial period by a further 60 days, not just on the Pro account itself, but on 'Hootsuite University' too – a great online training resource allowing you to master the dashboard and its features. Just make sure to email us and confirm once you've signed up – we need to send you a 'Promo Code' which makes your account eligible for the extended trial.
By going through our link, we're also able to help look after you better, since Hootsuite recognise our involvement in your account, and if you don't need to use the 2nd "user" (the Pro account gives you 2 users), then you can add us, and we'll be able to jump in and help when required.
"Wait a minute – do you get money if we signup?"…. I've been recommending Hootsuite for years, and in the past when asked this – I've always responded – "no, but I wish we did!". Well now we do! But trust me when I say it's never going to make us rich! We get a small commission if you stay on the Pro account after your free trial ends. For some clients – we actually recommend they downgrade back to the free account if it's the right thing for them, and that's not going to change just so we can earn a few £'s! The main benefit for us is greater insight into Hootsuite itself, which in turn, helps us help our clients.
Plus we like having a shiny new badge to display on the website 😉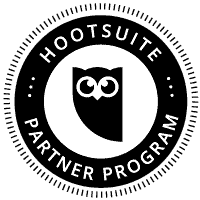 New to Hootsuite? : Sign Up for a FREE 30 day Hootsuite PRO account*

*Update August 2016: Regrettably, Hootsuite have withdrawn their entire Partner Programme with immediate effect. This means you can still signup using the link above, but we're now unable to provide you with any extension to your free trial.  Please contact us directly if you've any questions on this, or if you'd like any help with better understanding how Hootsuite can benefit your business.
Share this on social media...