10 Years in the making….  and now an Amazon #1 Best Seller!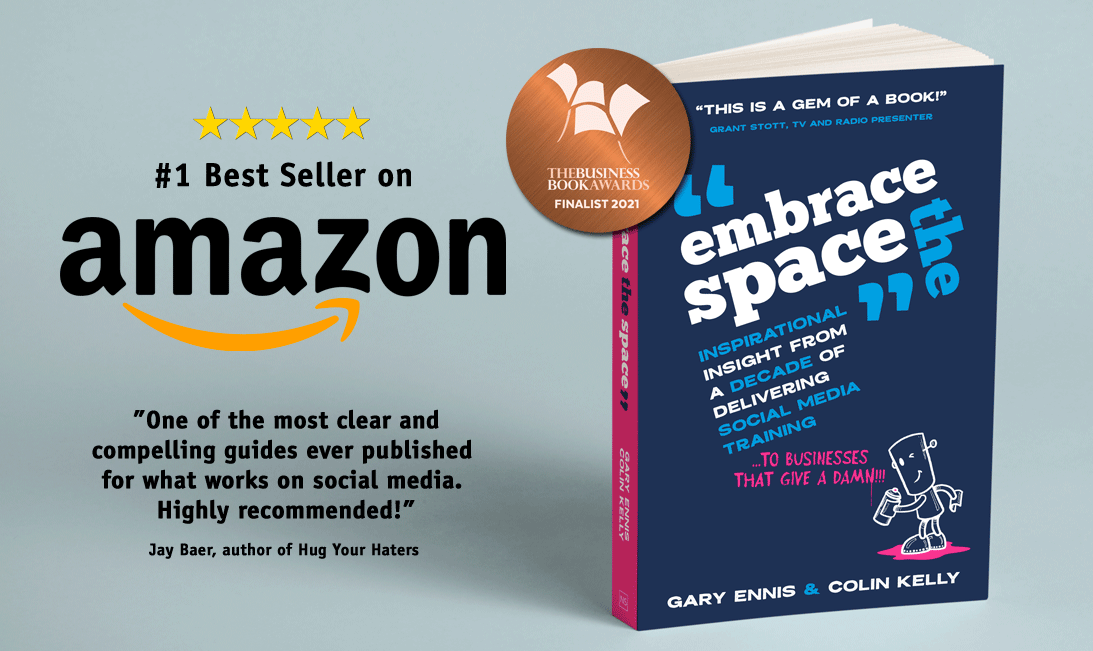 About the book:
If you're a business owner that gives a damn, this social media book is for you.
Inside you'll find a wealth of experience and knowledge which we've gathered from more than ten years delivering social media training workshops to more than 10,000 businesses across the UK. Packed with advice, tips, best practice, business case studies, strategic insights and lots more, this book will help you and your organisation get real results from Facebook, Instagram, LinkedIn and many other platforms.  We even included a few behind the scenes stories from over the years (some of which we promised never to tell!).
Embrace the Space
Social Media insight for businesses that give a damn!
Specifically, it's been written (as have the workshops over the years) for small and medium business owners who actually give a damn. People who care about how that business performs. People who care about the relationship they have with customers.
It's a business book which encourages the use of social media and digital technology to achieve business benefit, but which advocates that the way you do it, is to be more human than ever before.  Written during summer 2020 this is a fresh, inspirational look at what it takes to succeed with social media in a post lockdown world.
Praise for Embrace the Space:
"Finally, a book about business that I actually want to read. Packed full of useful stuff, and entertaining too. A must for anyone already working in social media, or anyone crazy enough to want to make a career out of it."
Helena Langdon, Stand-Up Comedian and Former Head of Digital at Innocent
"One of the most clear and compelling guides ever published for what works in social media, and why. Highly recommended!"
Jay Baer, founder of Convince & Convert and author of Hug Your Haters
"This is a gem of a book! As someone who uses Social Media both socially and as a tool for my work in broadcast Media, I'm confident enough to think I've got a handle on social media but this book has shown me there's so much more to learn. I'll no doubt return to this again and again."
Grant Stott, TV & Radio Presenter
"What an enjoyable, easy read that will not only motivate you to embrace using social media platforms but also gives you so much needed advice and support on what you should be doing with your accounts. Overall this book is a winner and a great asset to anybody who is ambitious on growing their brand."
Kieron Achara, GB Olympian and Mental Health Ambassador
"Colin and Gary have successfully translated their wit, energy and love of social media from their training workshops to paper! With new platforms and features popping up all the time, social media can sometimes seem overwhelming – particularly for small businesses. This book clears the noise allowing you and your business to focus."
Joanna Steele, Director, Dimax Digital Ltd
"I f**king hate social media and spend way too much time on it. This book makes me want to spend even more time on it. But get better at it. I don't know what to feel about this!…"
Gavin Oattes, Author and Inspirational Speaker
"A cracking read! Perfectly pitched for the small business with lots of useful tips and tricks – and real life examples of how to improve social media presence. This book joins up the social media dots and brings perspective to the cluttered landscape of Algorithms and Apps."
Stuart McKenna, CEO at Scottish Training Federation Limited
"A belter of a book that under promises and over delivers. Fun, engaging and thought-provoking content to help your business. We have witnessed our members grow their customer base applying Gary & Colin's digital teachings over the last decade – now you can too. A must read."
Bob Grant, Chief Executive, Renfrewshire Chamber of Commerce
Buy Direct:
If you'd prefer to buy the book direct from NSDesign (signed by the authors), either for yourself or as a gift for someone else, then just Pay online at Paypal ensuring your name, and postal address is all correct. We aim to ship books direct within 5 working days once payment is confirmed. We'll simply charge RRP (£19.99) plus £2.50 shipping.
Wholesale:
'Embrace the Space' is available to book retailers, libraries and other wholesalers via Ingram. If you are not an Ingram partner, please contact us direct to discuss wholesale terms.