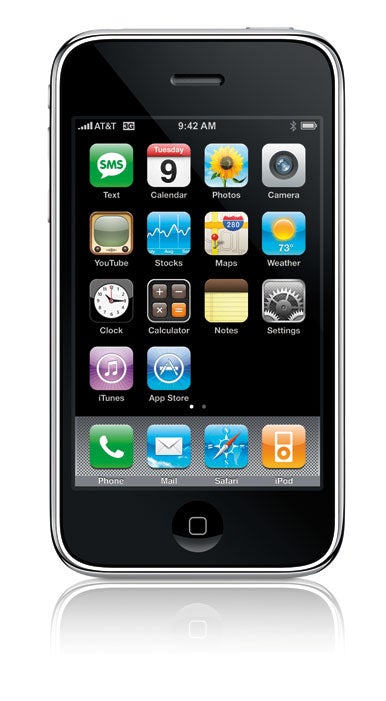 Come and say hello. You might win an iPhone!
A quick note before this week's main article – today (Friday 18 March) and tomorrow (Saturday 19 March) the NS Design team are at Scotland's biggest business exhibition New Start Scotland.
It's at the Royal Highland Centre, Ingliston and we're on stand D17.
If you come and talk to us about mobile websites you'll be entered into a prize draw where you could win an iPhone!
You'll be able to find out more about what we do, meet some of the team, and realise I'm even shorter in the flesh than I look on television.
A warm welcome awaits, so if you're at New Start Scotland come to stand D17 and say hi.
Don't Design By Committee!
(A horse designed by committee)
When they're having a website built some businesses get their priorities all wrong.
And instead of approaching the project from the point of view of what their customers want, they get bogged down with their own internal politics and obsessing over what they themselves on the inside think it should look like.
This puts the web designers they've hired to do the work in an almost impossible position.
These highly skilled people instinctively know what visitors to websites want and how to get good results on-line. They've built dozens, if not hundreds of sites in the past (more than likely for other businesses in your sector) and are right on top of the latest techniques and software. These men and women are experts and you'd be mad not to take their advice!
Some companies end up in an embarrassing, endless loop of to-ing and fro-ing back and forward with tweaks and changes and meetings and embarrassing "I'm sorry, but the Managing Director's not really sure he likes that" type phone calls.
Pleasing the client will always be a good web designer's priority but they also want to create a site that does a good job and works for you so although you'll never sense their frustration when you call with ANOTHER set of changes I do wonder how many sit squashing stress relief balls in their hands while they're on the phone!
The good news is, these problems can be eliminated with a little bit of planning in advance.
Here's how…
All this reminds me of a radio station I heard about once where the presenter got a call from the furious station owner while doing his show one night.
"I don't want to hear that Dire Straits song EVER again!" he yelled. "Why did you play it?"
"Er, because it was on the playlist the Programme Controller gave me" the presenter explained.
"Well it'll be coming off the playlist straight away…my mother hates it".
Fair enough…but this radio station was aimed at men in their 40s!
This kind of thinking holds businesses back and plays havoc with web design projects.
I think it comes about because bosses (just like the rest of us!) are extremely busy.
So when the idea for a new website is mooted they're happy to delegate and take a backseat.
But as the project moves along they find some time and become interested and CAN'T RESIST a bit of tinkering here and there! Then after having their say they get caught up in something else and, well, you can see that stress ball getting squashed a bit harder in the web design office!
Here's another way some of these problems can be avoided…
Something else that can often go wrong and it brings down the whole quality of a website is when the client tries to make it do too much.
You end up with massive clutter and it's a horrible experience for the end user.
A good example is in the media where you have half the business focussed on content, and the other half dedicated to selling advertising space. Increasingly, there's a third area they all want and that's interaction with users.
Some businesses and some web designers manage to integrate everything really well.
Others struggle.
Here's two websites from organisations with big fan bases. They want to increase their number of Twitter followers. Which of the two makes it easiest?
http://www.wtks.com or http://www.glasgowrocks.co.uk
I'm sure you'll agree the Scottish Rocks site is far easier to navigate and an all round better experience. That Twitter link is easy to find. Real Radio 104.1's site (despite almost certainly costing much more money) is full of clutter and the Twitter link is buried deep in a sub menu. I'm sure everything's there for a reason and is important to the station but the content gets suffocated and trying to find anything of value is a horrible experience.
Inside the company, everyone at Real Radio 104.1 will be happy because THEIR BIT is on the website. But what do the listeners think? "This radio station isn't sure what it's about, and I haven't got a clue where to start".
At the Glasgow Rocks site, decisions were made about what to put in and what to leave out; people compromised and considered what the user wanted from the site. And the end result is a smart site, where it's easy to buy tickets, get the latest results and find out more about the team. And because it's not swamped with adverts, you actually notice the couple that are there.
Whatever you want your website to do, better to pick a few things and do them really well, than try to force it to do absolutely everything.
Get your internal politics straight, get the big boss in the briefing and then let the experts get on with creating the on-line equivalent of a beautiful, sleek horse, instead of a camel that just gives everyone the hump.
Have you experienced a case of "design by committee"?  Share your comments below!
Share this on social media...